As many of you know, I'm just returning this week from a few days out of the country. My husband and I took a much needed warm weather escape to the beautiful island of Saint Maarten in the collection of little Caribbean Islands known as the Netherland Antilles. It's a fantastic little island with lots to do, great Creole and French food, and wonderfully warm and welcoming people.
I'm a fan of making life easier, and I find that shutting down the computer, turning off the phone, and disconnecting is a necessity in these seemingly never-ending days of late winter. And a little break in the cold for some fun in the sun does just that – makes life a little easier.
Part of making my life easier this year involved researching and upgrading to better tools and systems to house all of my customer and business data so that it's right at my fingertips. As I fumbled my way through new interfaces and interesting functionalities, I realized that some of these tools would be excellent resources for job seekers, in regard to making networking, conversation tracking, pipeline documenting, and information gathering processes 10x easier and more streamlined.
One of the biggest mistakes that I see job seekers making is going about their search haphazardly, which often robs them of the necessary time and effort one must dedicate to conducting real quality outreach and activities that yield results.
Here are a few recommendations to help you organize your search better and get the most out of your networking conversations, follow ups, and outreach:
Insightly, which my spell check attempted to correct to "unsightly", is hardly that. On the contrary, it's a very simple, user-friendly, but still fully-functioning CRM and CMS developed by the folks at 37 Signals who are known for their award-winning software interface designs. While most people would utilize a program like this for project management or sales pipelining, I find it's excellent for keeping track of the conversations that I have with clients, so that we can refer back to the exchange at a later date. 
Some of the benefits include:
User-friendly interface
Not overloaded with unnecessary functionalities you'll never use
Customizable theme and color scheme to suit your creative fancy
Clever integration with Google and other calendars for tracking reminders and other milestones
Ability to separate out contacts, projects, and opportunities depending upon the stage of the activity
Ability to tag all of those aspects for easy reporting and searching
Cloud-based for easy access to all of your data from any platform (including mobile)
Easily logs all of your email conversations automatically by just plugging in a customized address into your BCC field (it auto populates based on the email addresses included in the conversation!)
They do charge a fee, but it's fairly inexpensive compared to similar platforms
One of the best features for job seekers is the automatic sourcing of all social profiles associated with a contact's email address, so you have all of you communication streams in one place. Upon entering your contact's email address, Insightly will automatically pull all of that person's social profiles associated with that email address, giving you more ways to connect and engage with your prospect! Not connected on LinkedIn? No worries – you can follow them on Twitter, compliment their pin on Pinterest, and post a relevant comment on their industry blog. Just another way to remain on their radar, and stay ahead of the competition.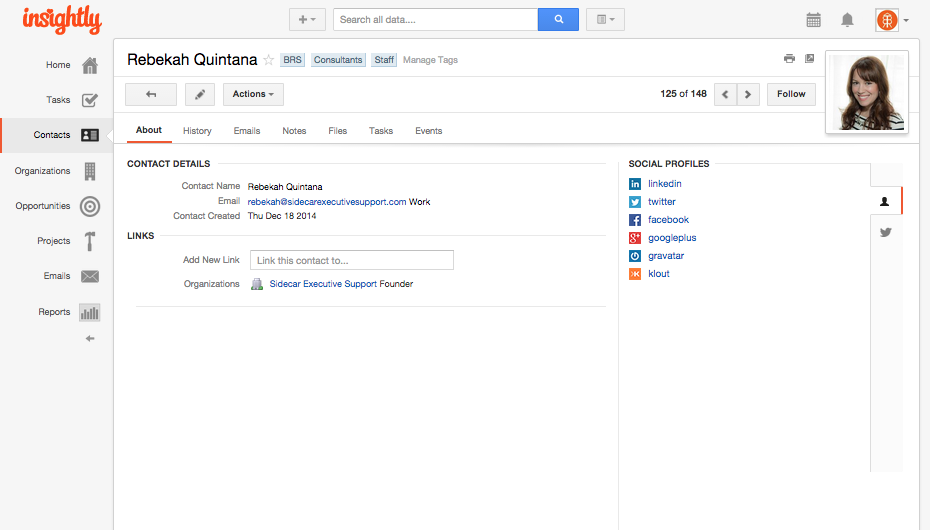 Many of you may already be familiar with Evernote, another excellent cloud-based application for organizing and keeping track of notes, links, articles, and other resources in handy little "notebooks". I was previously using Notes for Gmail, which is the digital equivalent of affixing sticky notes to your gmail screen.  I've since upgraded to Evernote where I have designated buckets (they call them notebooks) where I can store all of my "to read later" articles, make a list of all of the outstanding revisions I need to complete for clients, or share ideas with my assistant around what administrative projects need to be tackled this week.
What's great for job seekers is the ability to organize lists and created dedicated notebooks for your major prospects, whether they're based on specific companies, industries, or levels of outreach.  Some other benefits include:
Ridiculously easy sharing functionality so others can view your notebooks and notes
A chat functionality that allows you to instantly connect live with other team members around specific notes or notebook topics
Ability to keep lists around what follow ups, prospects, and other outreach you need to do for your search
You can make a notebook for each prospective company you're targeting, and log all of your activities, emails, and contacts at that organization in one place
Reporting capabilities, if you need them.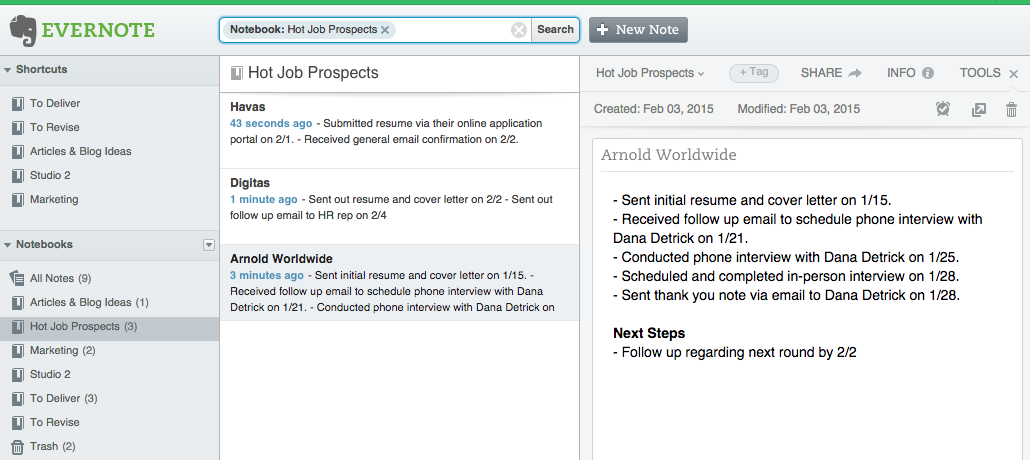 Organization and having an effective system in place to track and follow up on your communications and networking efforts is key to your job search success. Whether you use a piece of paper, an Excel spreadsheet, or a more comprehensive content management solution, get the most out of your efforts by creating a streamlined system. Avoid the mistake of a messy search, and that alone will put you way ahead of your competition.