Today I'm working on drafting up some follow up communications and cover letters for a client, for sending out her resume and following up post-interview. Though it may seem more like a formality than anything, it's such an important piece of the process. A good, solid follow up letter not only demonstrates professionalism and follow through, but it's also an important opportunity to reaffirm your interest and get back on the company's radar.
The same goes for the communications you use to market your resume and application. If I had a penny for every time I received an email as a recruiter with a resume attachment improperly named, accompanied by 1 line of text (and sometimes not event that), well, I'd have a lot of pennies. Think of it like this – do you just walk up to someone in a networking or professional setting, throw your business card in their face, say "Here you go," and walk away? Absolutely not.
The more competitive the job market gets, the more important the details of execution and process become. Here's what poor execution that wasn't very well thought out, and shows a real lack of effort looks like:
CANDIDATE #1: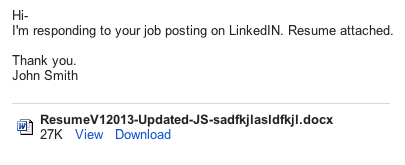 There's no personalization, no reference to the actual job he is applying to, and no interesting lead-in information about the candidate that compels the receiver to want to read more about him. Also, the resume is inappropriately named, looking like it was drafted up and saved in a rush. Here's a better example:
CANDIDATE #2: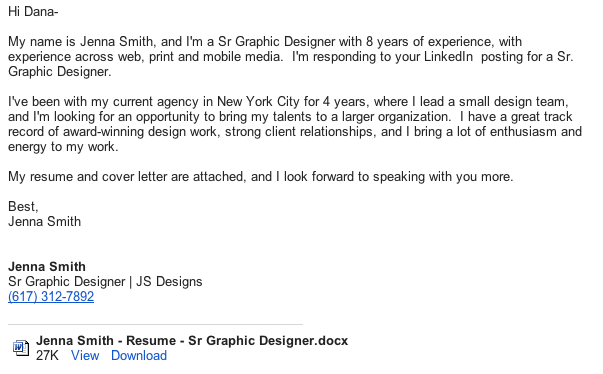 What's Working Here:
This email is personalized and makes a welcoming introduction to the candidate herself, giving me information on who she is, what she does, and what skills and experience she brings to table.
She's done something very important here, which is pre-qualify herself for the position, which also saves me time and effort.
She gives me a very brief overview of where she is currently, and why I should want to learn more about her, since she appears to be strongly regarded and accomplished in her field.
She closes with a professional looking signature that includes her contact info
Her resume file is appropriately titled with her name, and the title of the position for which she is applying.
Also remember to include a relevant subject line for your email that mentions your name and the position you are applying to. Based on this email, her subject line would have read: "Jenna Smith – Sr Graphic Designer – 8+ Years Design Exp". Notice I threw in the little bit at the end as a sneak peak of what's to come? This is pre-pre-qualifying the candidate, and increases her chances that in an inbox full of 100 submissions, hers is much more likely to stand out and be opened.
So here's the pop quiz – who do you think got called in for the interview?
What Next?
Need help crafting an impactful follow up? Check out these 13 Customizable Email Marketing Scripts for reaching out, following up, and submitting your resume. They're designed to save you time, and help you get the most return from your outreach efforts!