Online Personal Brand Presence
Boost your online personal brand visibility with a consistent digital presence across the most impactful social media networks. Generate expertly-crafted profile content that speaks to your value and expertise.
In this ultra-competitive job market, a traditional resume by itself is no longer enough when it comes to positioning yourself as a top candidate.  As a job seeker, it's crucial to tap into the right digital channels to communicate a compelling story around your career, and build a cohesive online brand presence that demonstrates how you think and create value.  It's no longer just about a one- or two-page resume, but about leveraging social media and online networking platforms to create a professional persona that illustrates your insights and expertise in the industry you serve.
Over 90% of organizations are using some form of social media in their candidate recruitment process. For instance, employer branding campaigns, customized job search apps and referral programs, and use in the application and screening processes. Globally, companies are leveraging LinkedIn, Facebook, and Twitter, in addition to using Google+, Pinterest, YouTube and blogs.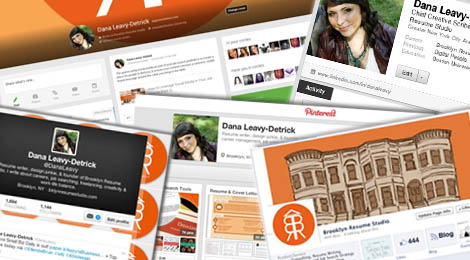 The Online Personal Brand Presence package will help you build a consistent digital brand presence across the most appropriate and relevant social media and networking platforms for your industry. Therefore, maximize your ability to stand out and connect with key hiring managers and recruiters.  See An Example
INCLUDES
Branded profile content for up to 4 social media platforms. This includes Facebook (personal or brand pages), Twitter, Google+, Behance, Pinterest and others (LinkedIn is available for an additional fee).
Dynamically branded About.me landing page with customizable URL. In other words, a central landing page that connects all of your networks to one place. It includes a bio, photo and other supplemental information. Plus, engagement metrics allow you to see who viewed your page & added you to their social media network.
Initial 30-minute consultation via phone/Skype to discuss and strategize how best to integrate your background, target audience and branding objectives, and determine which networks to include in your digital brand portfolio.
Optimize your reach by adding a LinkedIn profile for an additional fee.
PRICE: Starting at $350